Adoption Fee for Dogs: $225.00
Adoption Fee for Cats: $190.00
Our adoption fee includes
**All age appropriate vaccines
**De-wormings
**Spay or neuter
**Up to date on prevention
**Any medical treatment needed
**Heart worm test for dogs
**FELV/FIV testing for cats
**Microchipping (when available)
**Due to us being a shelter environment unless stated Differently we do not know if the dogs our house or crate trained.
**All cats are litter box trained
Currently the Rescue is only open By appointment and with a approved application for adoption. Please email pawsintheph@yahoo.com with any questions you may have.
Dog
 Happy is the last pup from a litter of 7. She is looking for her forever home!! Could that be you??
These babies are almost ready for their forever families!!!! They will be ready for Pick up Jan 25,2021 . A approved application and $100.00 Non- Refundable deposit will hold your puppy until Pick up!!

Brooks is a little shy and unsure at first, but quickly warms up and loves everyone
LOKI IS SUCH A SWEET BOY WHO IS READY FOR A HOME OF HIS OWN!
HE CAME TO OUR RESCUE HEART WORM POSITIVE AND WE HAVE STARTED HIS SLOW KILL TREATMENT. ALL THAT IS NEEDED TO BE CONTINUED FOR THAT IS HIS MONTHLY HEART WORM PREVENTION.
Xena is great with other dogs and loves people!!!
Thunder is full of life and love. He longs to show his love and have his own forever home. Great with other dogs and loves kids
Swirl was saved by her babies LITERALLY. She was due to be euthanized, and the shelter didnt know she was pregnant. When they went to go get her from her kennel she surprised them with 4 new born babies she had had in the middle of the night. Swirl is the sweetest girl and so happy all the time. She did come heart worm positive so we have started her slow kill heart worm treatment. This girl is happy and ready for her furever!

Bristol came to us heart worm positive and very pregnant. She has watched her babies go into their forever homes and has started her slow kill heart worm treatment. She is now ready for her forever home. Bristol is super sweet and adores people. She is also great with other dogs.
Bailey is just one big bundle of love and affection! She is playful and has the energy to go all day. Loves kids and great with other dogs
This boy is a ball of energy and fun! Ajax came from a horrible hoarding and breeding compound. He is 6 years old and would do best in a home with a very submissive male, or a female, or even as the only dog. He does really well with females, just dominate over males. Ajax is a BIG boy at around 70 pounds.
Casey is 50 pounds of love and goofieness!! She is completely house trained, great with dogs, cats and children!!! She likes to snort like a little piggy and her foster mom thinks she is just amazing!!!! 
*****Pending Transport***
Oh Alba, I cant say enough good things about this girl! She is funny and a lover. She is pending her spay appointment but hopes to find her forever home in the mean time!!  Great with other dogs, and likes kids. 
Aphrodite was taken from a horrible hoarding case. Where 60 pets were taken from awful living conditions. She is now ready for her forever home!!! She great with kids, and other dogs. A little shy at first but quickly warm up!!!
Hello!! This is Esme!! She is sweet and loves people even kids! She is female dominate and has alot of energy. She would need to be in a home where she is either the only dog or only with males. She is spayed and looking for her forever. 

NEEDS TO BE IN A ONLY DOG HOME

Hey their I'm shelly AKA Legs!! I'm about 5years old. I am a "take it slow" kind of girl. I am UTD on all vaccines and Spayed. NEEDS TO BE IN A ONLY DOG HOME

NEEDS TO BE IN A ONLY DOG HOME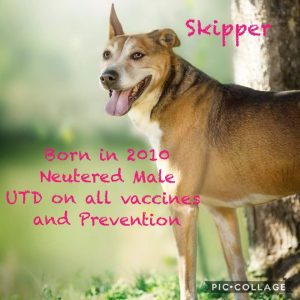 Hello Im Skipper. I am about 10 years old. Im just a old man who does better in a home where I am the only dog. I love people but not other dogs so much. I also will jump a fence if left unattended. So it would be best not to leave me outside alone for to long. I am neutered and up to date on all vaccine.
I have $125.00 in sponsorships to go towards my adoption.
Hi you guys! I am Sonny. I can be a bit of a scaredy-cat, but I do get along with other dogs well. My dream home would be one with LOTS of room for me to roam. Thanks to PAWS IN THE PANHANDLE, I have been neutered and am up to date on all of my vaccines. Come meet me and add a little Sunshine to your life
CATS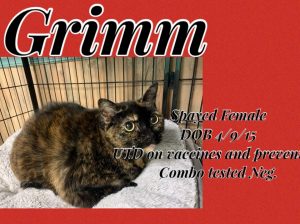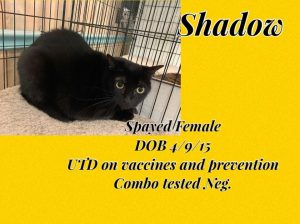 *** COME SEE ME AT PETCO IN INDIAN LAND***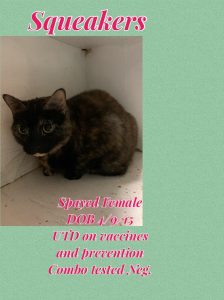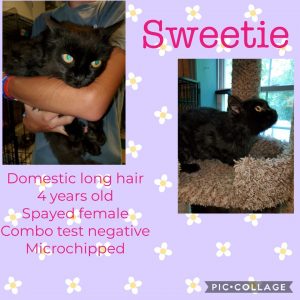 Sweetie is a little older and shy. She would do best in a calmer and quiet home.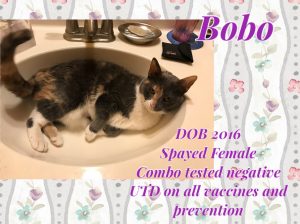 Bobo is gorgeous little lady who was surrendered to a shelter by her person. Our best guess is that Bobo came from a stressful environment where she was picked on or overstimulated. She's a very sweet girl who needs a quiet home, preferably with no young children or other animals. She's gentle, loving, and likes people, but will hiss to let you know when things get to be too much for her. She's getting more and more social and affectionate with her fosters as she decompresses and learns that she's safe. She just needs a kind human to understand her and let her make the rules for a while. Her favorite things are exploring, hunting for toys, climbing to the top of a cat tree, supervising bathroom activities, and laying in the sink! Once she's in the right home, she's going to be someone's best friend forever
**** BOBO HAS $50.00 IN SPONSORSHIPS TOWARDS HER ADOPTION FEE****
*** COME SEE ME AT PETCO IN INDIAN LAND***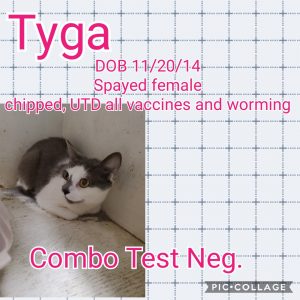 *** COME SEE ME US AT PETCO IN INDIAN LAND***