Dogs
Hi im Brody AkA Beau and im in foster, so we are working on my house training and crate training. I am doing really food at that. I was born April 15,2019. My brothers and sisters were found starving to death in the woods.
Cesar came to our rescue with his sister Harriet. Harriet has been adopted and Cesar is super sad. He spends his day trying to get the attention of anyone who will love and play with him. Can he be your new best friend?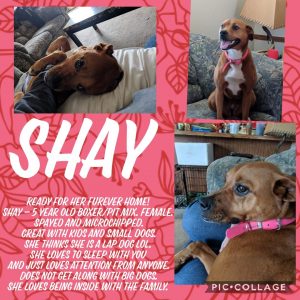 Hey im shay, I am fun and full of energy. My foster mom has done all the hard work and I am trained and ready for a home of my own. Can you help me?
Hey, it's me Wishbone! I am Slyder's brother. We love each other very much and it would be fantastic if someone would adopt us as a pair. I have lots of energy and LOVE to explore, so I would really like a home with a big fenced-in backyard. I have been neutered and am up to date on all of my vaccines. Please come and check me out. I can't wait to meet you!
Slyder and Wishbone are a bonded pair that must go together. Their adoption fee is $210.00 for the pair. 
Hey Everyone! I'm Slyder. I am Wishbone's loyal sister and friend. Wishbone and I are being fostered by Mrs. Gloria. She loves us very much, but we need to find a home to call our very own. I have been spayed and am up to date on all of my vaccines. I have very good behavior and would love to have a "forever" home with lots of CUDDLES!!
Slyder and Wishbone are a bonded pair that must go together. Their adoption fee is $210.00 for the pair.
Hi you guys! I am Sonny. I can be a bit of a scaredy-cat, but I do get along with other dogs well. My dream home would be one with LOTS of room for me to roam. Thanks to PAWS IN THE PANHANDLE, I have been neutered and am up to date on all of my vaccines. Come meet me and add a little Sunshine to your life
Special Adoption rate for the month of October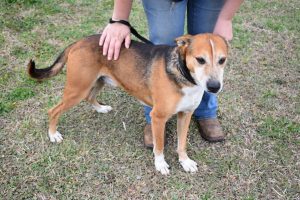 Hello Im Skipper. I am about 10 years old. Im just a old man who does better in a home where I am the only dog. I love people but not other dogs so much. I also will jump a fence if left unattended. So it would be best not to leave me outside alone for to long. I am neutered and up to date on all vaccine.
I have $125.00 in sponsorships to go towards my adoption. 
Hey their I'm shelly AKA Legs!! I'm about 3 years old. I am a "take it slow" kind of girl.  I am currently on heartworm treatment.  But hey, don't let that worry you, I am on medicine now and in just a couple weeks I'll be completely healthy.
Penelope
Hello I am Penelope but my friends call me P.  Everyone says I'm nothing short of a miracle. I was found running loose in a state park. I was really hungry so I was also skinny.  I was so skinny in fact that I had sores on my bottom and legs from the ground connecting directly with my bones. Those spots have since healed and I am gaining weight and regaining my girlish figure. I am a little hard of hearing. No one really knows how it happened but it doesn't slow me down.  I love riding in cars and getting attention. The girls have cried and held me lots of times because despite my hard and scary life I am always happy and wagging my tail. I have wagged my tail so hard and so much that I broke the tip off and it was painful. But Miss. Gloria took me to the vet and after a good nap I am on the road to healing. I kind of feel like my tail is a little shorter now though. Oh Well I'll just keep wagging, you don't need a long tail to show how happy you are. I am still scared that one day I won't have food. So at breakfast and dinner time I tend to get grumpy when other dogs are near my food. The best thing for me would be in a home that I am the only baby or you can separate my siblings when I eat dinner.
Marley
1.5 year old stud muffin seeking family for a lifetime. My name is Marley! I love to run and play. Fetch is my game of choice. I love kisses too!!
Strawberry
Hello, hello, hello!!!! My name is Strawberry! I'm still a baby. Only about a year old. Holy smokes do I have a lot of energy!! But please don't let my excitement scare you. I just love life.  I'm still a little girl only about 35 pounds. The girls at the sanctuary think I will grow a little more but not much. Something about my paws. But to be honest I don't understand. My favorite thing to do is give kisses and play!!! Will you come play with me?
Max
Ya'll meet max! He is 10 months old, Shepard mix.  He's house broken with a few accidents here and there. He knows sit, stay and come!!! Who needs a new bff??
Pepper
Hey guys its Pepper here! I am a husky mixed that was found wondering the road just outside of town. I am still young the sanctuary thinks I am about 10 to 11 months old. So I have some maturing to do. But I love attention and playing!!
Pauly
HEYYYYYYYYYYY!!!!! I am Pauly and about 2 years old!! I have sooo much energy so I need someone who has a yard I can play in. I don't like cages to much but I'm ok in an outdoor run or play yard. Its just those tiny little ones that you put in your house that scare me a little.
Grumbles
I am talkative so they started calling me grumbles. I am about 2 years old and a hound mix. I am a pretty chill dude. I get really excited over food but the rest of the time I am ok with just hanging out.
Sassy
I'm sassy!! I can be a little sassy and a lot of fun!! Jessica calls me tiny tot a lot. I think its because of my short little legs. I am only about a year old. If you need a girl with lots of energy then I'm the girl for the job.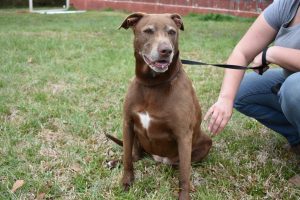 Hello I am Molly, and im about 8 to 9 years old. I am a little nervous in my old age and cranky when it comes to other pets. But I will keep your feet warm and give you the best kisses that you have ever had. I love to go for walks and walk great on a leash.
CATS 
Dudley
Please allow me a moment to introduce myself. I am MR. Dudley! It's a pleasure to meet you. I am about 2 years old. I was born with kidneys that don't work right so I have to take medicine 2 times a day. My caretakers say that it only runs about $1 a day.  I take it real easy to, just throw a little wet kitty food in with my pill and we are golden. The girls say that I am just a goof ball. Don't tell them but when I know they are watching me or I can get them to laugh, I put on more of a show! I love the attention from it.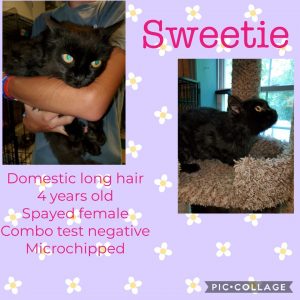 Sweetie is a little older and shy. She would do best in a calmer and quiet home.
Lilly is a little nervous at times, But once she warms up she loves attention.