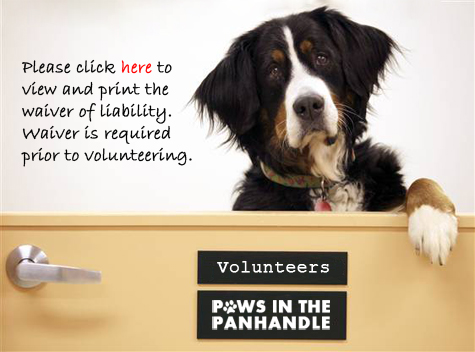 VOLUNTEERS NEEDED FOR:
Volunteer Coordinator and volunteers.
Adoption Drive Coordinator and volunteers.

Possum Hollow – Looking for handyman and grass cutter.

Need someone willing to repair, clean and price items once we are moved to PH, come in to test electronics, crafty person to create crafts to sale from items within the shop

Pawsitively Thrifty Store Volunteers and Assistants – Workday is Wed; Store Hours are 10am-4pm on Thurs, Fri, and Sat (3 hour shifts available).
Fund-Raising Coordinator:  someone to head-up planning and running fundraisers for the sanctuary.
Sign Makers and distributors.
Volunteers to pick up and deliver items.
Craig's list and e-bay backlog packing/shipping helpers.
Vintage Book Expert.
Grant/research Writer.
More foster homes:  the more foster homes we have, the more animals we save – CATS AND DOGS!
Website Administrator to continue developing and maintaining  our current Paws in the Panhandle website.
Thank you to all who do so much…no amount of your time or contribution is too small…it all helps so very much.
If you can help, please call Gloria:   803-371-0897 or 803-802-7297 and leave a message for her or e-mail pawsintheph@aol.com.
***************************************************************
If  you can't adopt – FOSTER.
If you can't foster – SPONSOR.
If you can't sponsor – VOLUNTEER.
If you can't volunteer – DONATE.
If you can't donate – EDUCATE, NETWORK  AND CROSSPOST.