Adoption Fee for Dogs: $225.00
Adoption Fee for Cats: $190.00
Our adoption fee includes
**All age appropriate vaccines
**De-wormings
**Spay or neuter
**Up to date on prevention
**Any medical treatment needed
**Heart worm test for dogs
**FELV/FIV testing for cats
**Microchipping (when available)
**Due to us being a shelter environment unless stated Differently we do not know if the dogs our house or crate trained.
**All cats are litter box trained
Currently the Rescue is only open By appointment and with a approved application for adoption. Please email pawsintheph@yahoo.com with any questions you may have.
Dogs
Bristol came to us heart worm positive and very pregnant. She has watched her babies go into their forever homes and has started her slow kill heart worm treatment. She is now ready for her forever home. Bristol is super sweet and adores people. She is also great with other dogs.
Bailey is just one big bundle of love and affection! She is playful and has the energy to go all day. Loves kids and great with other dogs
Aphrodite was taken from a horrible hoarding case. Where 60 pets were taken from awful living conditions. She is now ready for her forever home!!! She great with kids, and other dogs. A little shy at first but quickly warm up!!! 
NEEDS TO BE IN A ONLY DOG HOME
Sweetie
Sweetie is a black domestic long hair cat who is as chill as a cat can be.  She loves just hanging around the office and laying in the sun. They have tried to take her to Petco, but she doesn't seem to like it there.  She is a true homebody who would love to just chill with her family at the house.  
Cooper
Cooper is a kind old man.  He is looking for someone to share his days with while he sniffs around the yard and soaks up some sun.  He is on the older side, but still loves to go outside and walk.  
Dottie
Don't let Dottie's age or size fool you, this dog is ALL puppy!!
Dottie's dream day would be running in the yard and going on walks.
She might not be good in a house with small children as she does not know her size (she thinks she is still the size of a puppy, but is more of a  medium sized dog).
When we have taken her out with other dogs, she gets along with most of them.
Dottie was picked up as a stray by Kershaw County Humane Society on March 8, 2021. Paws got her from there on March 16, 2021.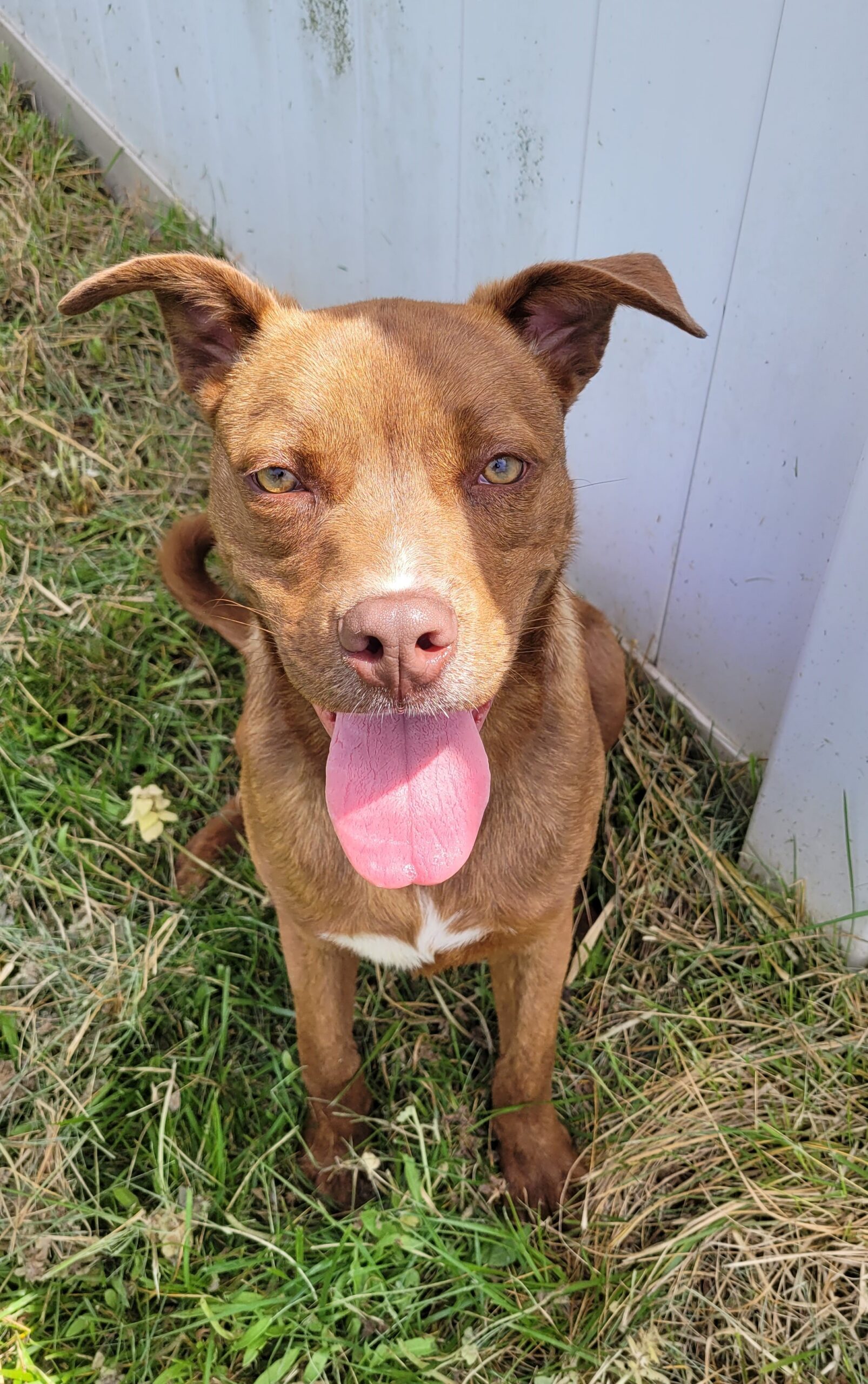 LEGO
Lego is a young pup that loves to play. This young boy will need some direction as he has only lived in shelters. He will need you to be patient and persistent with him as he grows into being the best dog ever.
MOLLY
Molly is a fun loving 3 year old pit. She is currently being fostered and gets along with other dogs and kids. She has a lot of drive and loves to play. She walks nicely on a leash and is not reactive. She does tend to get a bit possessive of resources (balls, toys, ect), but with the right leadership and a bit of counter conditioning that should improve. She loves to zoom around the yard and get belly rubs.
ROSE
Rose is a light brown shepherd mix who was turned in by her owner.  She is a calm girl who reminds us of Nellie.  She is just looking for a couch to sit on, someone to sit with, and lots of pets.  
SADIE
Do you like to throw balls?  Sadie LOVES to chase them and bring them back to you!  This adorable girl surprises us all when we take her out to the yard.  She will run after balls all day if given the chance.  She would make an excellent baseball family dog!  Her defensive skills are on point!  Anyone training with Sadie is bound to get better!
SHELLY
Shelly reminds us of that cranky old aunt we all had that was nice just to us.  Shelly is so sweet and calm when she is around humans, but she is not a fan of other dogs or cats.  Shelly loves to walk and lay in the grass.  She is an older dog (about 7) so all the puppy drama is done with her.  
BISCUIT
Biscuit is a cool looking dog, mostly black husky mix with blue to almost white eyes.  Biscuit was born on Jan 1, 2021 adopted, then returned to Paws recently (so she might still be house trained).  She is a good listener and will even talk back sometimes, that is the husky in her.  
ROBERT and CATHLEEN - BONDED PAIR
Robert and Cathleen are sweet 6 year old cats who were brought to Paws due to their owner no longer being able to take care of them.  These 2 are looking for their forever home together where they can lay around and argue who has the better sun spot from across the room, just like any siblings would do.
SASSETTE
Sassy Sassette!!! This sweet girl recently had surgery on her hip and has been hanging out in the office while she recovers. Sassette was being fostered, but due to her injury and her lack of training, she had to come back. Sassette needs a loving, patient household. She is still learning to walk on a leash and needs someone who will take their time with her while she learns the ropes of becoming a family member. She is super sweet and loving and won't mind sharing a seat with you to cuddle.
BOO
This Boo is who Dua Lipa was talking about when she sang about a Sugar Boo.
Boo is a sweetheart who has the attitude of a smarty pants teenager. Boo will sometimes think he is too cool for you, but you both know he loves you. If he could say words, they would be "MOM!!! DAD!!! Stopppppppp!!!" then he would smile because you both know, you know?!?
DAMION
Damion does not know his size or his age. He is about 7 years old, but acts like he is 7 months old. He is on the larger side, but thinks he is a lap dog. He is just a big lovable doofy dog. Damion unfortunately wasn't rescued from the best circumstances. Even still, he is one of the most loving affectionate dogs. He has never been properly house trained, so would need someone who is patient to teach him. We all think he would be the best farm dog. He loves to go on walks, run in the play yard and get petted.
MELISSA
Melissa doesn't jiggle jiggle, she wiggle wiggles, in the grass. This girl LOVES grass. She rolls all around it in. She is such a happy girl with she is outside in the play field. She loves pets and walking too.
She is currently on medication for incontinence. She is the sweetest girl who just needs a home that has love, patience, someone to pet her, and grass. Sweet, sweet grass!
COSMO
Do you like to throw tennis balls? Because Cosmo LOVES to chase them and bring them back. This handsome boy would be the prefect fit for someone who is active but can also rest with the best. This pup will play for however long you want and when you are done, he will snuggle right up on you. He is very sweet and affectionate, but does have a lot of energy. He would love someone who will walk him or play with him daily, but still have energy to give him pets. He is a giant love bug.
MAX
In your spare time do you like to toss sticks?  If so, Max would LOVE to chase them for you.  This German Shepard mix is in LOVE with sticks and frisbees.  He doesn't catch them mid-air, yet.  We have a feeling that with enough time and practice he will get there.  Max is a sweet boy who turns into the happiest pup when he is out in the play yard.  We love seeing Max play and run. 
MAVIS
Mavis is a smart girl who would love someone to take her out and explore. She would love a yard to call her own and someone or a couple someones to take her out to play or for walks. She has been with us since Feb 2021 and we would LOVE for her to find her forever home.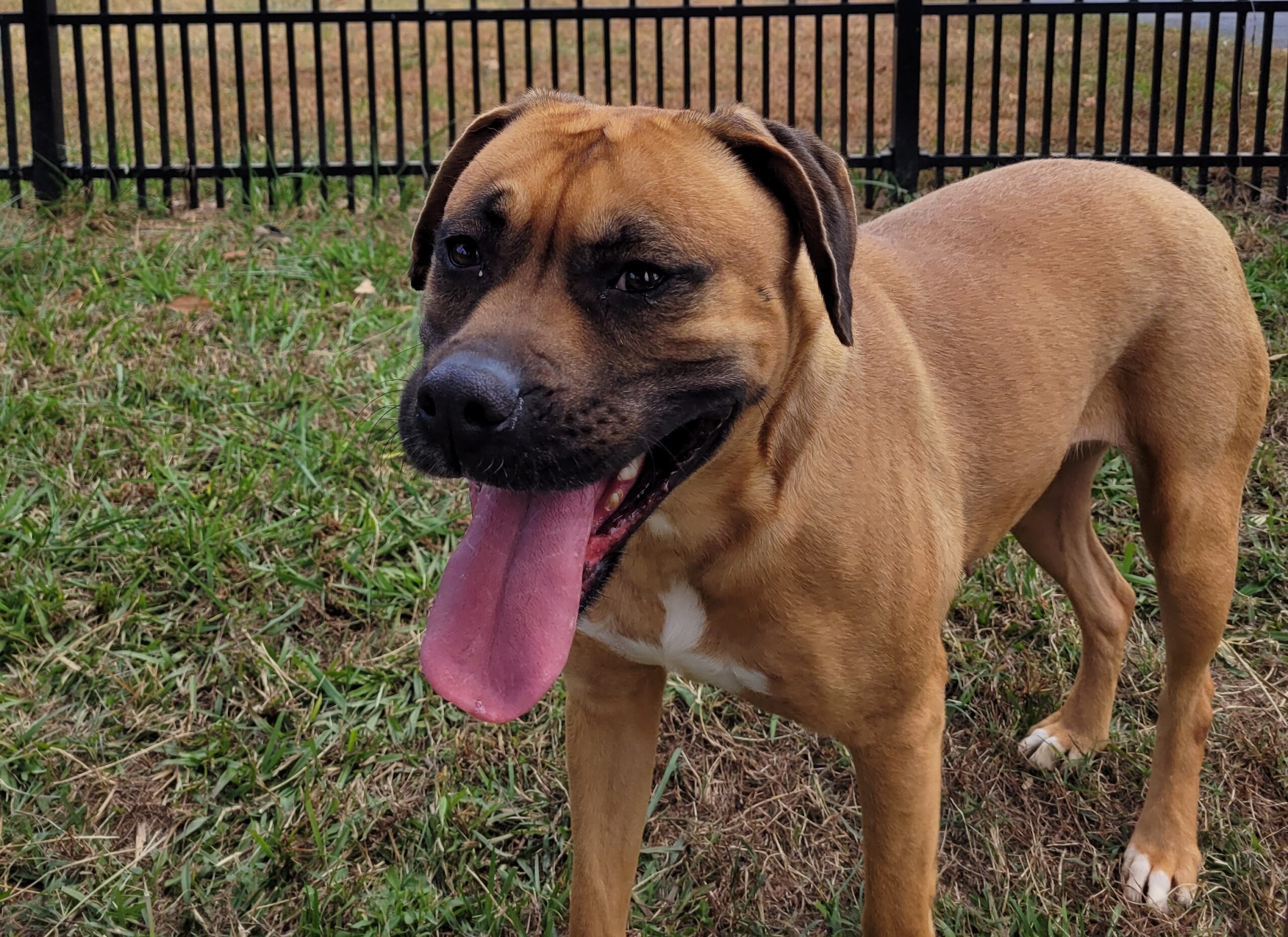 BILLIE
Have you ever had someone tell you, when I first met you I thought you were mean? That is Billie. She gives a look that is not at all her personality. She is the kindest, sweetest dog. She just has that face that make you think she doesn't like you or she smelled something really bad. I guess you could call it resting dog face.
TIGGER
Tigger takes after her name sake, she is a ball of energy and super fun to watch. She loves climbing, jumping, chasing, playing, exploring or any other type of activity!  She is a true kitten.  She currently isn't spayed, but we are working on getting that taken care of.  She was found in a field and brought in to us to help get her the home she deserves. 
AJAX
Ajax has yet to accept his age or size. This almost 8 year old dog acts like a pup. He loves to run in the yard and play. He does take more pet breaks than he used to. The will let you pet him all day long if that is what you felt like doing. He is a sweet boy who needs someone with patience and time to get him trained. Unfortunately he wasn't given the best life so far and needs someone to show him how to be a good house dog.
ANGEL
Need someone to help you get out of your shell? Angel is your girl. She can get a party going anywhere!
Angel recently had her front let amputated and is healing well at Paws. She was found in a field tied up and owner surrendered. She was taken to the vet who advised there was no saving her front leg. That hasn't brought her spirits down. She is a loving, happy girl who is always down for a belly rub. She would do best as an only pet.
LEVI
Levi is your typical goofy teenage boy. He loves to run and play and be active. He will chase balls, frisbees, sticks or whatever else you want to throw. Just like a teenage, whether he brings those back to you depends on his mood. He needs a home and family with patience as he has been in a shelter his whole life. Given the change and opportunity, Levi would make a great addition to any active family looking to add to their adventures.